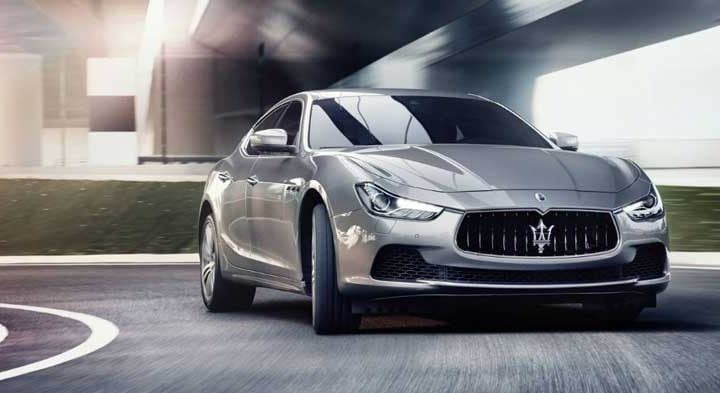 Ahh, Maserati. The car-maker's name rolls off the tongue and impresses even the elite. Maserati models are known for their performance, seductive lines and masculine air.
And they create a lot of air, with a 3.0-liter, twin turbocharged V6 engine across the 2018 Ghibli line.
The Maserati Ghibli's power will not overtake your control, either. You can enjoy the added power of programs such as lane keeping assist, forward collision warning plus, traffic sign recognition and adaptive cruise control with stop and go function, among others. These vehicles, in other words, are a perfect blend of high-tech, high-fashion and high-function.
Picture yourself zooming through the countryside with good company and not care in the world. That could be your reality as part of the upper-crust Maserati club. The all-wheel drive system renders the road conditions unnecessary to worry about. The Maserati algorithm monitors functions such as wheel speed,
steering and yaw
angle to establish individual grip profiles for the wheels. This means the vehicle is better able to adjust to wet, icy, rough or otherwise difficult road conditions. You will never feel more safe or secure than you do behind the wheel of an intelligent Ghibli.
Step into a Ghibli, Ghibli S or Ghibli S Q4 and feel the difference. Then work with us to create your perfect model, with personalized interior and exterior features, as well as the bells and whistles. If you are in the market for a sporty, sophisticated ride, you are in the right place.
Drive away in a 2018 model for as little as $778 per month, or kick it in a 2017 for just $625 per month.
Financing
with 0% APR is just one of the many perks that you will find along the way!
Go on a grand tour, and never look back.
Browse Essence's complete Maserati
Ghibli inventory
and picture yourself in the driver's seat of a genuine, iconic Italian automobile.
Proudly Serving the Dallas - Fort Worth area, and neighboring communities - Frisco, Garland, Plano, Grapevine, Southlake and Frisco.